Arnie Spanier walked into a gymnasium where his little brother was playing a high school basketball game. He had just quit his job at an advertising firm in Los Angeles, where he was employed for one year and a day. The firm wanted Spanier to be a full-time employee, but there was just something about the 8-5 lifestyle that turned him off. He declined and walked into the gymnasium that night, jobless, in his 20's and still not far removed from college. 
The game that night was to be broadcasted on a local cable channel. However, the two guys doing the game never showed. In a mad panic, it sent the TV station into a frenzy trying to find someone who could broadcast that night's basketball game. Spanier calmly walked up and offered his services. Sure, he was wearing sweat pants, but he knew his brother's team really well. The only issue, besides the sweat pants, is that he didn't know the other team at all. With no previous experience in the broadcast world, Spanier called the game that night on TV. The bug started at the most unusual place and time of his life. Afterwards, he knew he needed to try to find a way on the radio.
When Spanier arrived at The University of Arizona, pursuing sports radio as a career was the furthest thing from his mind. The format was still in its very early stages and not nearly as prevalent as it would be a few years later. With little experience and no tape to show program directors, Spanier was literally starting from the bottom in his pursuit of a career he had just recently become interested in.  
One station Spanier was aware of, was the Sports Entertainment Network in Las Vegas. He listened to one of the shows on the network and thought he could do just as good of a job as the host he was listening to. So, Spanier headed to Vegas to try his luck on getting a shot with the station. Upon meeting with one of the big decision makers, Spanier expressed his desire to do some fill-in work. The man asked the question that anyone else in charge of a big station would ask, "How much experience do you have?" Unfortunately, Spanier had nothing to offer on that front and was honest about it.
 "Get the hell outta here! Go work some place like Little Rock for a couple of years and then give me a call," was the response Spanier heard. But instead of walking out the door and dealing with striking out, Spanier asked the guy to reconsider. Finally, he was told to call back in a couple of months to see what the station had. He loaded up and drove back home both hopeful and excited. 
All throughout that summer, Spanier's calls to the station went unreturned. Living in his parents' house didn't make the waiting any easier, but he had to, seeing as he had no money at the time. Finally, out of the blue, he got a call from the network and asked if he still wanted to do some shifts. Without hesitation, Spanier said yes. He was instructed to do the midnight to 6 a.m. shift on Christmas Eve, Christmas Day, New Year's Eve and New Year's Day. Probably the four-worst shifts he could have been asked to do, but he didn't care, his opportunity had finally arrived. 
More than anything, Spanier was excited he'd have some tape to show other stations that were potentially hiring. He didn't know what to expect, only that he would be leaving with cassette tapes in hand to mail across the country. When he walked into the studio, he had no idea what he was doing. Much like his career, his knowledge of a working radio studio was starting at the bottom. 
Regardless, Spanier made it work and did all four shifts he was asked to do. In his mind, it went well, so he approached the boss on the following Monday morning to thank him for the opportunity. But as he walked to his office, all he heard was yelling and a lot of four-letter words. Two men came storming out and left. Spanier casually walked in and was told, "Who are you?!" "Woah, woah,' Spanier said, "My name is Arnie and I just want to thank you for giving me the opportunity to let me host the four shows over the holidays."
The response that Spanier got was one he'll never forget. 
"If you want to thank me, you can start today from noon to 3 p.m."
Just like that, not only did Spanier have his first job in radio, he was now hosting a national show. Talk about fortunate. For a week he did the noon to 3 shift. After that, he was in drive time from 3 to 6 p.m. The soon to be 'Stinkin' Genius' was just getting started
Along with a ton of excitement, stops in several markets across the country would follow in Spanier's career, such as Atlanta, Dallas and Phoenix. Spanier and his wife Beth even appeared in an episode of The Newlywed Game. Today, you can hear him every weekday on 101.3 The Game in Burlington, Vermont from 3 p.m. to 6 p.m. along with Rich Haskell and Brady Farkas. Spanier is also still doing national radio. You can hear him every Sunday night on Fox Sports Radio alongside Chris Plank.  
TM: You're talking every day with your co-hosts on the show in Burlington. Mostly, face to face, I'm sure. But what about your Fox Sports Radio show on Sunday night? You're in Vermont and Chris Plank is in Oklahoma. Have you ever seen each other in person?
AS: We've never seen each other face to face in the 5 or 6 years we've been doing a show together. We've only spoken on the phone, like, less than a half dozen times. It's around once a year, we'll call each other maybe for the holidays or something. But we do text each other a bunch during the week. If there's something I see that we can use for our show, or even his local show, I send it.
TM: What are the challenges of doing a national show, compared to a local show? Is it harder?
AS: I don't think it's harder. It's different in a few ways, you've got to figure out the main topics and which games are the most relevant to talk about. Like on Sunday, you had the Saints playing the Rams, you had the Packers and Patriots, so you concentrate on those games.
You really don't know what's going to happen or take off nationally. I like both of them, because I've done a lot of local radio and I've done a lot of national. But I don't find national any harder, you just have to keep up with things a little more. The only thing that may be tougher is college basketball. Even though you're not going to talk about the smaller teams or even breakdown the games, keeping up with everything going on makes it tougher. 
TM: In that sense, is there any way that doing a national show makes you better as a host? Just because you have to broaden your horizons and talk more than just what's local?
AS: I think both ways. I think the fact that I'm up in Vermont and a small market for the first time in my life, we do a lot of Patriots and a lot of Giants. The stuff I talk about locally, I can definitely bring over to my national show, because we breakdown the Pats like no other. Then, I can bring stuff from my national show and let them know what the rest of the world is thinking about the Patriots, Giants, Knicks and the rest of the area teams. I think it's not just one way or the other, the local show helps the national show and the national helps the local.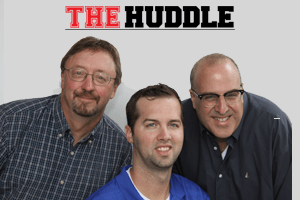 TM: Where did your nickname 'Stinkin' Genius' originate from? 
AS: Nebraska was playing Arizona State and they absolutely crushed them. Nebraska absolutely crushed them. If I remember correctly, gosh, it's been so long, Nebraska scored on a late touchdown and I think they won 77-28. Immediately, I said, "Ohhh, you're going to pay for that, big boy! Running up the score! I said, you watch and see if Arizona State doesn't sit on this one for a year and circle this one on the calendar! I wouldn't be surprised if they shut them out!"
The next year, Arizona State shutout Nebraska 19-0 and I think it was the biggest prediction. Nebraska hadn't been shutout in a long time. So, some people said, wow, you're just like a stinkin' genius! That kind of stuck and it's been going on for several years. 
TM: As fun and cool as it is to have that nickname, how much has it helped people identify you?
AS: I think it's definitely helped, especially early in my career. But I think other things also, just little things like the way I give out the phone number, or my style, just other things. But yeah, Stinkin' Genius, that really helped people identify me early in my career. 
TM: Even though you mentioned that you really didn't know what you were doing in the beginning stages of your career, was there something inside of you that thought you were pretty good?
AS: Yeah, of course in my mind. We were told to take a lot of phone calls, so I would churn out like 50 calls an hour. After 6 hours that would definitely take a toll on you, but that's what they wanted back then.
We used to get a lot of calls and have a lot of fun. I was like, damn, this is working out good. We have a good show with a lot of calls, the boss even likes me, I'm actually getting paid, living in Las Vegas, I got a mustache and a ponytail, what more could I want?
TM: You've done shows all over the country, but can you say that you enjoyed one market over any other?
AS: I would say Phoenix. I went to U of A so being in Phoenix was unbelievable. There was a lot of ASU and U of A, the Suns were good at the time, and I got to bring the morning show from the network along with me. I got John Cannon hired, and another guy hired, it was like my own station. We just completely captured the city and had big turnouts all over the place. Remember, I worked in some good markets. Dallas, Atlanta, but I would say Phoenix was the most influential one.