In southeastern Tennessee, along the Tennessee River in the foothills of the Appalachian Mountains, lies the bustling city of Chattanooga. The rapidly-growing city, that's the fourth-largest in the state, is known for a few things, but probably best-known best for its Civil War history and beautiful landscape that makes it one of the most picturesque towns in the south. But if you think Chattanooga is all about re-enactments of the Battle of Lookout Mountain you're mistaken. Sure, the city clings tight to its important history, but there's a strong appetite for sports in the Scenic City. Especially when it comes to SEC football. 
Though Chattanooga doesn't house an SEC school, the city is located in an area that makes for an interesting dynamic. 113 miles to the northeast is the city of Knoxville and the Tennessee Vols. 176 miles to the southeast sits Athens and the Georgia Bulldogs. Then, 205 miles to the southwest straight down the highway out of town, you'll find Tuscaloosa and Nick Saban's dominant dynasty. That's three major SEC programs with huge fan bases. And each one is situated just a short drive away.
ESPN 105. 1 The Zone in Chattanooga has taken advantage of its geographical fortune by going all-in on the Vols, Bulldogs and Crimson Tide.
"We're inside the state of Tennessee, so the Vols are going to be the biggest fan base in town," said program director Wells Guthrie. "But to be honest, I have no idea who the second biggest would be. Since we're situated right on the state line by Georgia, there's also a lot of UGA fans here. But there's also a lot of Alabama fans here and that does really affect the programming.
"I'll give you an example: During football season our afternoon show talks Tennessee, Georgia, Alabama throughout the week, but we also have an appointed listening segment devoted to each one of those teams. It takes place on the day of the press conference for each team's coach. We do that, because we know we have to cater to each of those fan bases, because they make up a large portion of our listening audience."
By the way, do yourself a favor and Google pictures of Chattanooga. Having not passed through the town since my childhood, I found myself saying, holy crap! I need to spend a weekend there! Seriously, the photos and views around the city are that breathtaking. But when I see pictures of Chattanooga, I envision a city that's growing and progressing, but also one that's always stuck true to its small town feel. When it comes to radio, that means an ever-important strategy to be a key staple in the community.
"The way I would describe Chattanooga is that it does have a small-town vibe, to use your words, but at the same time it's not that small of a city," said Guthrie. "It's growing, it's got the southern roots, it's got the old money and it has the charms of an old southern city that's been around forever. But it's also vibrant and progressive in its thinking. It's artsy and has that type of vibe. But when it comes to what we do on the radio, yes, you have to be out there in the community and doing live remotes. Sometimes, it's just station events, not even things where a client is necessarily paying you to be there. You have to put in that extra effort to go out there and be seen as much as you can. Physically meeting someone in the flesh, shaking their hand, taking a picture with them, that's extremely important for us in a market like Chattanooga."
Making an effort to be out of the studio and face-to-face with listeners is always an exceptional idea. And as Guthrie stated, especially in a market like Chattanooga. But there's also other ways to make listeners feel more involved with the day-to-day operations of the station. Guthrie believes it's all about letting everyone have a voice.
"When you're programming a station in a market like Chattanooga, a town that's this big and has a small town feel, you cannot alienate your callers," continued Guthrie. "You have to give them an opportunity to speak their mind and come on the show. Big market and syndicated radio isn't like that but here you have to give people a voice. One thing we've tried to do here is give them that opportunity."
ESPN 105. 1 is the only 24-hour sports radio station in Chattanooga. So, from a competition standpoint, that presents a lot of advantages. But the one thing about small markets is that the biggest competitors often come from non-sports stations. That's the case in Chattanooga, where a local news/talk station is often vying for the same listeners and advertisement dollars as ESPN 105.1. 
"The way we operate our station is we have two local shows. One is a local show from 2-3 p.m. the other one is our mainstay three-hour local afternoon show called Press Row, which airs 3-6. As a station, we're live every weekday from 2-6. The station across the way, I believe, they've recently switched some things up, but I think they're doing 3-6 local. They're on the same time we are, so yeah, that would be competition within the market. "
Tennessee, Alabama and Georgia football will always control much of the content as long as ESPN 105.1 is on the air. But with all the points Guthrie has made about Chattanooga having its small town feel, it does mean, if only partially, that you have to cater to the local sports in the area.
That includes D-2 athletics with UT-Chattanooga, Chattanooga FC, Chattanooga Red Wolves, the Lookouts and even the local high school sports scene. The station caters to those needs by airing The Local Zone with Brooks Carter from 2-3 p.m. every weekday. The hour-long show stays local as much as it can, but still dabbles at times in the Vols as well as the rest of the SEC. Then, from 3-6 p.m. it's Press Row with Guthrie alongside David Paschall and Jay Greeson from the Chattanooga Times Free Press. Guthrie figures that 75-80 percent of the content, especially during football season, is centered on the Vols, Bulldogs and Crimson Tide.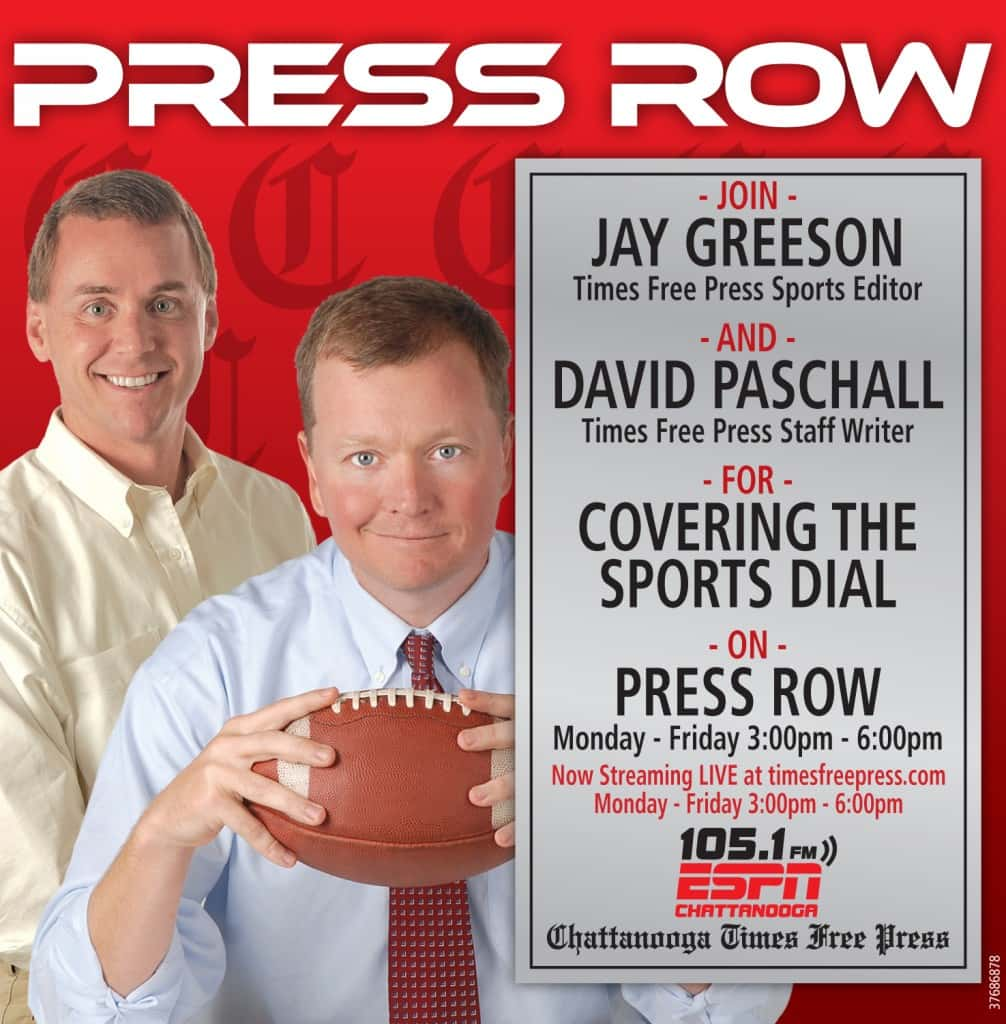 That's exactly the dynamic Guthrie enjoys most about doing sports radio in Chattanooga. It's the fact he gets to heavily cover three teams, instead of just one local team. In terms of content, that certainly helps with keeping things fresh and relevant. Plus, if you talk Georgia, the Tennessee and Alabama fans are still tuned in because there's an interest to hear what their rivals, or in this case, Bama's chief competitor in the SEC, is up to.
"The connection with Tennessee, Georgia and Alabama is really special," continued Guthrie. "Chattanooga does not house an SEC institution, yet of all the towns I've been through in the south, whether they have an SEC school or not, Chattanooga is one of, if not the biggest, melting pot of SEC sports fans I've ever seen in my life.
"This is no disrespect to whatever station is the Auburn flagship in Auburn, Alabama, or up in Knoxville with Tennessee, but when you're in a market like that, you have to talk about the specific team in town a ton. I like the fact we get to spend a lot of time on the nearby SEC schools and don't have to focus on just one. Georgia and Alabama are experiencing a ton of success right now and we get to treat those two programs as our 1A and 1B."
Don't be surprised if Chattanooga continues to keep growing. A vibrant city with beautiful scenery and loyal football fans will keep attracting people from the south. With the city showing so much recent growth, it's been extremely beneficial to the growth of ESPN 105.1.
"It's positively affected not only ESPN in Chattanooga, but our cluster in general," said Wells. "There's more and more businesses opening up their doors. A lot of the business that have opened up are bars, restaurants, so that's really helped with bringing in new business inside our door."