It's March Madness and you know what that means: Brackets. No, not that one. I'm talking about the one that means you made it in the sports media world: The Spun's annual Most Annoying People In Sports Media bracket.

The number one seeds are about as predictable as your Duke bracket this year, as Stephen A. Smith, Skip Bayless, Colin Cowherd and Jim Rome are the juggernauts this season. Meanwhile, last year's winner Jemele Hill is out of the running since she departed ESPN and is a contributor for The Atlantic, no longer focusing on sports. She beat Stephen A. Smith for the title of most annoying.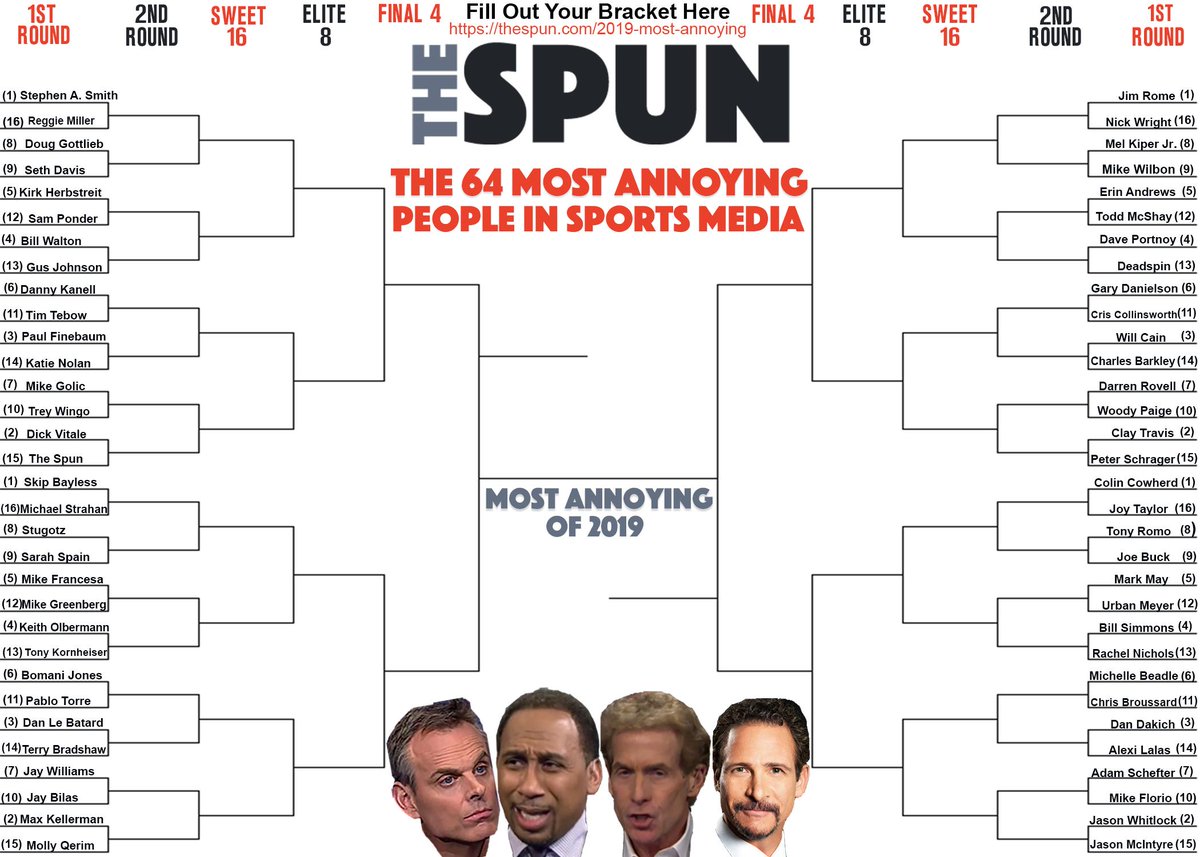 The 2019 bracket features a few interesting matchups to get the field of 64 going.

4. Bill Walton vs. 13. Gus Johnson

This rematch is likely the most energetic face-off in the opening round, Walton made it to the final four in 2018 after beginning his run with a 63 percent win over Johnson. Gus may have cooled the jets over the years, but this battle of college sports commentators could be a close one yet again.

2. Dick Vitale vs. 15. The Spun

The Spun may be putting themselves in Cinderella's slipper with this one. Last year The Spun was bounced by Paul Finebaum in the field of 64. This year they'll look for redemption against the mighty Dickie V.

4. Dave Portnoy vs. 13. Deadspin

This one is going to be ugly. This match would be high on an old Attitude Era WWF Raw card for the Hardcore Championship with steel chairs and metal trash cans thrown about. Portnoy may walk out with this one, but not without Deadspin getting in as many licks as they can.

8. Stugotz vs. 9. Sarah Spain

The true definition of a 50/50 game between eight and nine seeds. Both have their own No. 1 podcasts on the Le Batard and Friends Network, but who will advance in the battle of annoyance?

3. Dan Le Batard vs. 14. Terry Bradshaw

Speaking of Le Batard, he gets a high seed but could be in for an upset with resident Mike Tomlin hater Terry Bradshaw looking to make a run at the title. Le Batard didn't make it out of round two in 2018 while Bradshaw had an uphill battle against Clay Travis that wasn't close. With both men looking for redemption, this could be the bracketbuster where the winner could make a deep run.

8. Tony Romo vs. 9. Joe Buck

Finally we have a battle of commentators from Fox and CBS's number one teams. Romo was a 14 seed last year and was eliminated by Vitale with ease. Meanwhile Buck drops from a four seed to nine after losing a close one to Phil Simms in 2018. Meanwhile, Simms is somehwere laughing maniacally as he repeatedly votes for Romo.
Stephen A. Smith is arguably the front runner, he's had quite the season at being emphatically wrong on a number of topics such as how an injured Hunter Henry was a big success for the Los Angeles Chargers, or Dwayne Haskins' scrambling ability, and goodness knows what else. But you never know, 2018 saw Chris Broussard (10), Bill Walton (12) and Keith Olbermann (11) make it to the Elite Eight.