Many people watch sports for the entertainment value. Heck, I watch sports mainly to be entertained. I haven't gone into work and said, "Did you see that buzzer-beater? Awww, man! It taught me something valuable that I can apply not only to my personal life but also my professional life!" I'd be known as the weird guy forevermore. Although it's rare to discuss the lessons we learn from sports with great excitement, it would be silly to overlook examples that can actually benefit us.
There were a pair of Game 7s in the NBA Playoffs on Sunday. Two players in particular — Portland Trail Blazers guard Damian Lillard and Toronto Raptors forward Kawhi Leonard — provided memorable performances as well as some useful lessons. Lillard struggled as the Blazers beat the Nuggets 100-96. Leonard had a monstrous performance scoring 41 points in Toronto's 92-90 win over the 76ers. Leonard also became the first player to hit a Game 7 buzzer-beater in NBA history.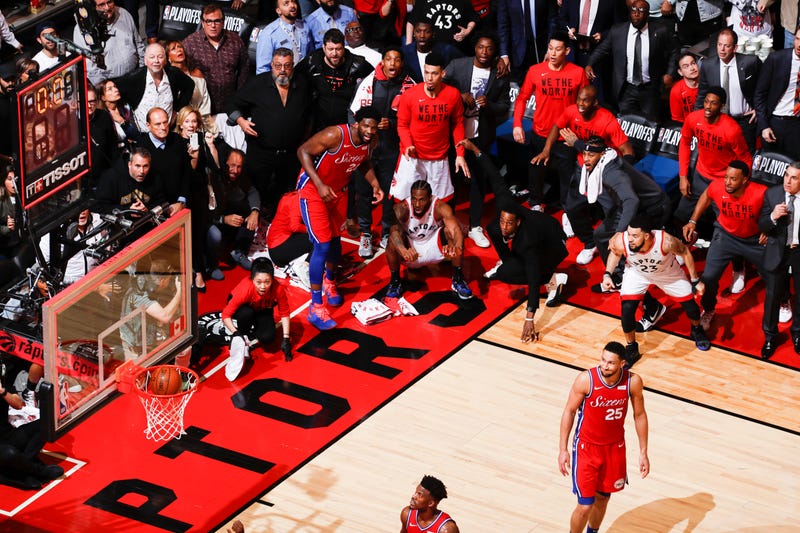 Both games provided plenty of drama and excitement. Leonard's game-winning shot touched the rim multiple times before dropping. It was like basketball's version of the famous chip shot by Tiger Woods in the 2005 Masters where his golf ball just sat on the lip of the cup before finally falling in. To me, the excitement went beyond the games. Lillard and Leonard conducted themselves in ways on Sunday that are great examples for sports radio hosts. There are two lessons to remember.
Know When To Be The Go-To Guy (Or Gal)
Lillard is a star player, but doesn't feel the need to always have a starring role. He had a rough game while only making three of his 17 shots from the field against Denver. Lillard deferred to his teammate, CJ McCollum, who had the hot hand. McCollum scored 37 points and hit a number of huge shots down the stretch. There were possessions in the closing minutes where Lillard didn't even touch the ball. He has a great feel for what will benefit his team most, even if it involves him taking a backseat.
Meanwhile, Leonard was a monster for the Raptors against Philadelphia. He hit enormous shots and was clearly Toronto's biggest star. Leonard knew the best chance his team had to win was for him to be a dominant player. He took 39 shots during the game, which accounted for 43.8% of the Raptors total shots. That's a heavy workload. Lillard's 17 shots only accounted for 18.2% of Portland's overall shots against the Nuggets.
What's the point here among this sea of numbers? Knowing when to have a starring role and when to defer is very important. Sports radio hosts need to have a feel for this just like athletes.
There are times to assert your dominance, and times to support others. It isn't only about you. It's about the show as a whole. Many hosts think they have to constantly shine the brightest for the show to be at its best. This is completely untrue.
There are instances when deferring to a co-host, guest, or piece of audio is the best approach. Maybe someone (gasp) is more knowledgeable than you on a certain topic. Maybe someone (deeper gasp) has an opinion that is more interesting than yours. Instead of trying to outdo everybody and everything around you, it's smarter to highlight others and lend support even if you don't stand out the most.
Commentators showcase this skill often. Vin Scully didn't speak for over a minute after Kirk Gibson hit a dramatic walk-off home run for the Dodgers in the 1988 World Series. Jim Nantz didn't speak for nearly three minutes after Tiger Woods won the 2019 Masters. It wasn't about the men calling the action. Scully and Nantz knew the true story wasn't about them; they were just a part of it. It's similar in sports radio. A necessary skill is to know when to shine and when to support.
The Rock used to say in his WWE wrestling days, "Know your role and shut your mouth." The truth is being great is more about knowing your roles (plural). You aren't just one thing constantly. Tom Brady, the greatest quarterback of all time, once handed the ball to running back Jonas Gray 37 times in a single game. Gray rushed for 201 yards and four touchdowns in a 2014 Patriots win against the Colts. Did that mean Brady wasn't a star because he had a supporting role that game? Nope.
Leonard had a starring role scoring 41 points. Lillard had a supporting role scoring 13 points. They both had a feel for what would benefit their team most. It would have been a bad approach for Lillard to try to force more shots when he was struggling, and for Leonard to defer to his teammates when he clearly had the hottesthand.
As a sports radio host, the same feel needs to exist for what will benefit the show most. It doesn't stay constant. The roles for radio hosts can vary just like the roles for athletes.
Be yourself
Lillard and Leonard are comfortable being the people they are instead of the people others want them to be. Lillard has stated numerous times that he isn't planning on leaving the Blazers to join a team that might have a better chance to win a championship. Many people think winning a ring is the only thing that truly matters. Lillard doesn't subscribe to that theory. He values his teammates to the point that he considers the position they'd be in if he left Portland. Lillard also doesn't believe that the star player has to always shine. He has a team-first attitude and trusts his teammates in key spots like he did on Sunday.
Leonard doesn't have a dynamic personality. He's okay with that. It didn't sound like he hit a dramatic series-winning shot when he spoke with TNT's Ros Gold-Onwude after the game. Instead it sounded like he either woke up from a nap or maybe was doing a halftime interview at a Summer League game. A New Balance commercial summarizes Leonard perfectly — "Kawhi doesn't need to get your attention. He already has it. Game speaks for itself."
Being yourself in sports radio is a key factor that many hosts overlook. The business requires hosts to stand out. We need to be different. We need to be noticeable. We need to be this. We need to be that. The most important "thing" you need to be is often the least emphasized — you need to be yourself. If you aren't, the audience won't ever know the real you. If they don't know the real you, then you're just another host giving another opinion.
I've been asked for dating advice on a few occasions. I'm very far from the authority on all things dating. I don't start off by saying, "If there's one think I've learned about women…" The main thing I stress is to be yourself. Find someone that loves you for you.
I think it's similar to sports radio. There are ways to improve yourself — pay off your teases right away, play the hits, etc. There are ways to improve yourself in dating — open doors, don't talk with food falling out of your mouth, listen. Improve yourself in both areas, but not at the expense of simply being yourself.
Dan Patrick shared a thought last week that hosts don't need to have a hot take about everything. Patrick described a hot take by saying, "I'm going to go with something outlandish, something wild, and then you're going to notice me."
He's right. A hot take about everything is overkill. A host that delivers nonstop hot takes is trying too hard to stand out. Do you know what happens when you seek a date by trying too hard? You end up in an exclusive relationship with yourself. Don't force it.
I'm a very competitive person. I realized over the last week that my goal to stand out and succeed can come at an expense — you might start to stray away from who you truly are. Even if it's the slightest difference, it can still be a dangerous game.
I wrote at the top of my notes, "Relax and be yourself. Stop trying to be more. Realize you're already enough." Cue "Kumbaya" to accentuate this point. It's the truth though — trying too hard can be one of the worst moves you make.
It all comes down to knowing yourself and knowing the situation. Kareem Abdul-Jabbar scored the most points and John Stockton recorded the most assists in NBA history. Stockton is also 45th in career points. Abdul-Jabbar is 43rd in career assists ahead of some guy named Michael Jordan. Not too shabby. Neither player was just one thing. They both had a feel for when it was time to score and when it was time to set somebody else up to score.
This is sports radio in a nutshell. Hosts should look to score (by delivering opinions) and assist others (by bringing attention to their stances). A good mixture of both is necessary.
Just like Lillard and Leonard showed us last weekend — know when to dominate and when to defer. Hosts that have a feel for this are valuable. Hosts that are also comfortable in their own skin will do some damage in this business.