Have you ever seen a worse football game in your life?
I mean, of course you have. But when you take into account the importance of the game and then consider that the game trudged along, the commercials were just okay, and the halftime show was as milquetoast as one could ever imagine, that is easily the worst football watching experience this nation has ever had.
So how do you talk about the game today? If you aren't on the air in either LA or Boston, is there any point in talking about what actually happened on the field? Sure, we had history with Brady eclipsing Montana in rings firmly planting his flag atop GOAT mountain, but Tom Brady didn't really do anything. And I mean ANYTHING!
Brady wasn't great. He wasn't awful. He was just kind of there. If your listeners don't have a vested interest in the outcome, why would you waste time analyzing it in depth?
Every year we are reminded what a phenomenon the Super Bowl is in America. The network that carries the game each year is virtually guaranteed an audience of over 100 million. Commercials, truly the lifeblood of boring games like the one we saw on Sunday, cost advertisers over $5 million to shill their latest beer or car or burger for 30 seconds. The halftime show is picked apart by everyone.
That is how you need to be talking about the Super Bowl. It's the height of pop culture! There are going to be years when it is fun to break down what happened on the field, no matter how far your market may be from either team involved, but guess what! 2019 isn't one of those years.
Monday should be a day fueled by audience interaction. That doesn't have to mean phone calls either. You can ask texters to weigh in on the commercials. Will anyone admit to crying at the commercial where Anthony Lynn met the people that saved his life? I will.
Fox News talking head Dana Perino posted a photo of her homemade queso that got eviscerated on Twitter.
Use that as a jumping off point to ask listeners to Tweet you photos of the crap that people tried to pass off as food at the Super Bowl party they went to.
Then there is Maroon 5. Jesus, have you ever been more bored in your life than by that halftime show? Even Big Boi couldn't save it, but then again, what did I expect him to be able to do?
There are so many conversations worth having about that halftime show. You could go with something as simple as reminiscing about Prince, Beyonce, Bruce Springsteen, and other halftime performances that were actually good. You could debate how popular Maroon 5 actually is. You could even have a discussion about what we have seen the last two years.
2018 gave us a performance from Justin Timberlake, the person that really should be considered the most guilty for Janet Jackson's "wardrobe malfunction" at Super Bowl 38. Then on Sunday we had our first appearance of a nipple since that faithful night. Is it time to forgive Janet Jackson and let her do the halftime show for Super Bowl LIV?
Look, these are definitely dumb ideas that only bare live on the fringes of sports. I admit that. But what was the more memorable moment in Atlanta last night: the single touchdown or Tracey Wolfson trying her damndest to interview Tom Brady after the game?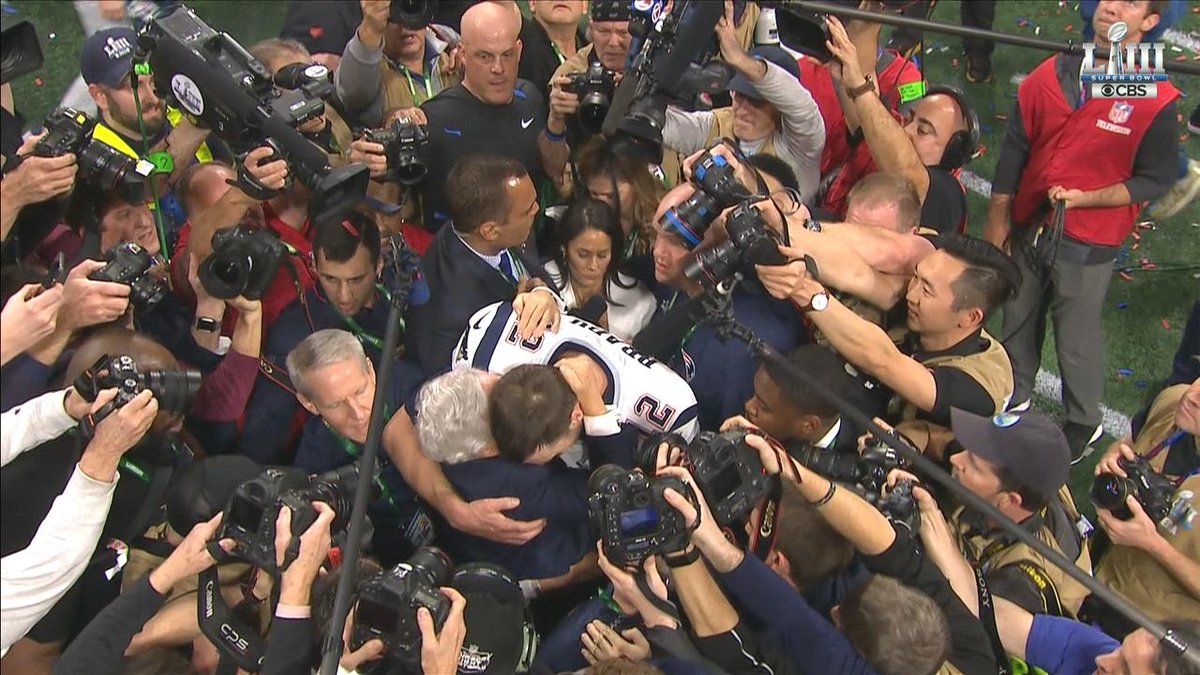 The Super Bowl is as social as sports gets in this country. Sports may be the vessel through which everything that happened on Sunday night flowed, but it was only about 25% of what was worth talking about.
Once over breakfast at a Pelham, Alabama Cracker Barrel, WJOX program director Ryan Haney told me that he thought it was important for young broadcasters to understand that sports is a lifestyle format. Games and scores may be the jumping off point to our conversations and segments, but at the end of the day, this is all fun. That's what the listeners want – fun, lively, and relevant conversations.
As you talk today and this week about what happened on Sunday night, remember that there is so much about the Super Bowl that is relevant to your listeners that had nothing to do with the final score.