This is the time of year when I start to get jealous of hosts who do a show in a baseball town. Not that I think those guys have it super easy, but in a time when so little is happening, it would be nice to have a competitive team to talk about on a day-to-day basis during the spring and summer months. Plus, I'm a big baseball fan. 
But this can be a challenging time of the year for hosts in smaller markets. If you don't have a local MLB team in the area, finding and creating engaging topics that move the needle can be a bit of a struggle. In this instance, it's about your creativity and willingness to think outside the box that will generate good segments. But let's say you're a host in Omaha like Josh Peterson, it begs the question, should you regularly talk Major League Baseball if a team doesn't exist in your market? 
Omaha is about a three-hour drive to Kauffman Stadium in Kansas City. It's also about a seven-hour drive to Wrigley Field in Chicago. A large Cubs fan base sits in the state of Iowa, just a few miles away from Omaha, but driving three hours to a Royals game is the easiest way to see live Major League Baseball. In a city where Nebraska football is king, if you do talk baseball in Omaha, is it about the biggest storylines, a certain local player or a particular team?
"Mainly, we're talking about the biggest stories," said Peterson, co-host of Unsportsmanlike Conduct on 1620 The Zone. "My co-host is a Cubs fan, I don't really have a favorite team. Occasionally, we'll have on a Cubs guest and have started a relationship with a couple of writers that cover the team.
"It's a lot of the big picture stuff, like the Bryce Harper contract or why baseball was having trouble signing its big stars in the offseason.
"Occasionally, there will be a former Nebraska guy that we'll discuss. Unfortunately, the Royals are really bad right now and that was a team we could really lean on recently to talk about. It's just mostly big picture stuff and if anything tickles our fancy, we'll get into that."
If you don't have a local team you're covering on a day-by-day basis, there's probably no reason to talk about the pinch hitter the Twins used the night before in the bottom of the 8th. Nobody cares about that outside of Minneapolis. But talking the biggest story in baseball is relevant, especially in a town that hosts the College World Series every year.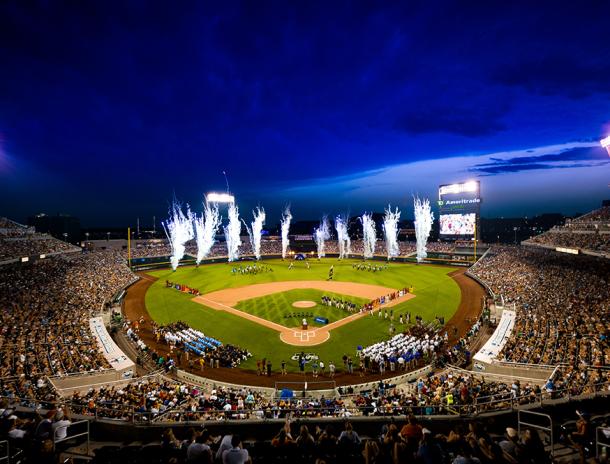 Omaha may not have an MLB team, but there's enough interest to talk about it on a regular basis throughout the summer. The only issue, is that talking baseball without referring to a local team, at times, can be challenging to make entertaining. 
"I think the big reason why is because of the reliance of numbers over the years," said Peteson. "That's not coming at it from someone who hates numbers, I'm a huge fan of analytics in all sports. It's really interesting and we can learn a lot from them. Baseball is just hard to argue about now. I think it's fun to do Montana vs. Brady or Lebron vs. MJ, we're not doing those topics but I think there's a place for them.
"Do people go to bars and argue about baseball players anymore? It doesn't really seem like it. I could go to a bar around here, find two guys at the right age and say Turner Gill or Tommy Frazier? It'll spark a great argument and conversation. I'd be riveted to just sit and listen. Baseball just doesn't seem to have that anymore. I don't know if it's because it's so regionalized or because the numbers are so dependent, it's just a much harder sport to have an in-depth discussion about compared to football and basketball."
Regardless of what you think to this point, the aim of this article isn't to rip on baseball. It's only to identify the best way to approach talking about the sport in markets without a team. If I was in Chicago, St. Louis or Boston, you bet I'm hammering Cubs, Cards and Red Sox every day. But in markets such as Omaha, Birmingham and Memphis, going heavy on MLB talk may not be the best way to approach things.
"Today, we started doing some draft previews and we realized we haven't talked about it a whole lot, said Peterson. "I think we've talked about Kyler Murray like once, but there's just not a whole lot of Nebraska interest. There's some guys that will get picked but it'll be later. We've talked more baseball recently than the NFL Draft. My favorite sport is football, I like baseball but I'm certainly not watching it every single night. We have a weekly baseball guest named Mike Ferrin, he covers the Diamondbacks and he works for Sirius XM and MLB Radio. We have him on every single Tuesday. We've talked a lot recently about Christian Yelich and his start as well as the controversy with throwing at batters and the all the storylines that have followed. We've actually talked a little more baseball than we normally would during this time."
I like this idea. Peterson has a four-hour show, so he's always looking for content. For the listeners that crave baseball talk, they know on every Tuesday they can get their fill with a national guest. Plus, as mentioned earlier, the occasional Cubs guest will join the show.
The bottom line is simple. As with anything else, play to your audience. If you think Major League Baseball is relevant in your market, even without a team, and you can make it entertaining, go for it. Don't ignore the big stories, but don't also think you have to talk baseball just to say you did it.
In Omaha, much like many other non-professional markets, college football is king. Peterson always keeps that in mind, even when I asked how his listeners would respond if they chose to totally ignore baseball talk. 
"There'd be some people that would say it's awesome, because it's football all the time," he said. "But I do think there's some people that would be really disappointed. They would want to have those conversations and rip my co-host John Bishop for being a Cubs fan and have fun with that. I do love big picture baseball stuff as well as the history of the game. There's part of me that's a huge baseball fan, but the minutia and the day-to-day is just tough."