Townsquare Media's Tide 102.9, "The Home of Alabama Sports," relies on a rather straightforward business model: feed the city of Tuscaloosa, Alabama, all the content it can handle surrounding Nick Saban's juggernaut Crimson Tide football team.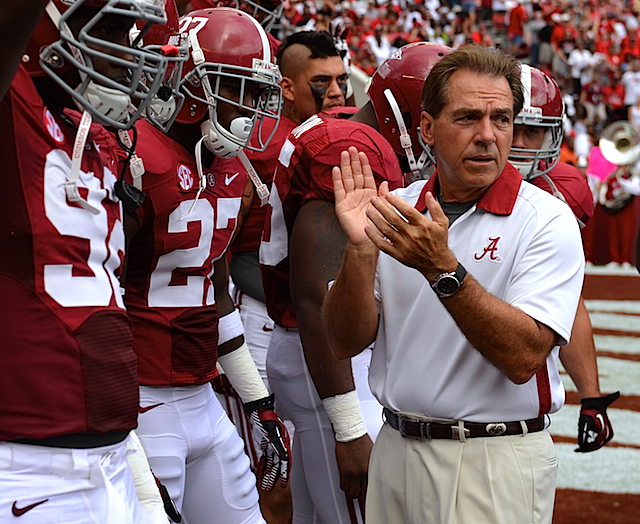 Sitting at a 212 market size and covering one of the most successful programs in college football gives Tide a prerogative to shatter expectations for a small market by producing original local content direct from the source.

Former national champion Alabama Crimson Tide fullback turned host of The Blitz (weekdays 6 – 7 a.m. CST) Martin Houston said he believes calling Tuscaloosa a small market is a relative term.

"I look at the fact that we're in the market with the best college football program, possibly in history," he said. "So that means there are going to be tremendous eyes on it, not just from a local standpoint but also a national standpoint, especially considering Alabama's fan base."

Tide has the advantage of easy access to press conferences, practices and events as the station is just five miles away from campus. Ryan Fowler, host of The Game (weekdays 2-6 p.m. CST), said he can take advantage of his location by recording an interview and running to practice while the interview plays over the air and be back in time to give a report on practice that day.

"That's what separates us from the competition. We're here in Tuscaloosa. We're not trying to pretend to be Tuscaloosa," Fowler said. "When you mention that word 'Tuscaloosa' you get instant credibility. If you mention Tuscaloosa in Seattle, they're going to know 'Hey, the University of Alabama.'"

Residents of the city can look to Tide for local coverage as well. Fowler says it's his duty to the community to present important local coverage of traffic and weather situations when necessary. It helps break up his four-hour solo show in the afternoons and make it feel more about the community.

"I like to say I'm not a caller-driven show, I'm a caller friendly show," Fowler said. "We invite callers to be a part of the show. We want them to have a sense of ownership."

Ownership is a good word, as listeners naturally drive every decision at Tide 102.9, but this audience has shown they have the power to create real change in the lineup. Over time listeners drove ESPN out of the Sunday schedule altogether. Tide once had the Atlanta Falcons games air on Sundays but a demand for a full replay of Saturday's coverage of the Alabama football game created the change.

It is safe to say Tide 102.9 listeners need Alabama football and not much else.

That presents the question: What does "T-Town" talk about for half the year when Alabama football is resting and preparing for another run at the national championship?

The answer won't surprise you. It's Alabama football.

When basketball is a few games into its season and as baseball and softball get started, talks of recruiting and Saban's coaching staff rule the airwaves in Tuscaloosa.

"Everybody always says the offseason is the most challenging. I agree. It is hard," Fowler said. "But I've seen my biggest growth in the offseason. Alabama fans are so accustomed to looking for football, they find whoever can provide that content. We're offering something that a lot of people are just not able to do because they're not in Tuscaloosa. They're not connected with what's happening here at the University of Alabama."

Often times when an Alabama team's season takes a dramatic turn for the worse, fans in Tuscaloosa shift their focus momentarily to vent their frustrations. Such is the case for the men's basketball team, which started conference play hot with a victory over Kentucky and a close road game with Tennessee before hitting a dangerous three-game losing streak. That was enough to move the conversation for Fowler's and Houston's shows to discuss the future of the program.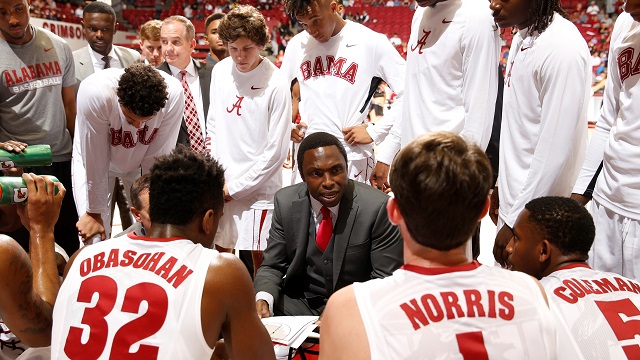 For a more in-depth basketball perspective, fans can catch Inside the Locker Room with Wimp and Barry Sanderson weekdays 7-9 a.m. CST, but even they have to give in to the football conversation to move the needle.

"I think people are hungry for it," Houston said referring to the prospect of a consistently successful basketball team. He said many of the sports at Alabama struggle to have a loyal fanbase dedicated to their specific sport like football does. He pointed out the example that most Alabama baseball fans are generally going to be even bigger football fans.

That said, a 20-0 start from the No. 5 softball team doesn't stir a conversation from the locals beyond the occasional on-air shoutout.

The hyper focus on Alabama sports could expect to see a dip in listenership for non-Crimson Tide fans, yet surprisingly the rival fanbase is active for Tide.

Fowler has several callers that back up rival schools, nearly one for every SEC program. Fowler said "sometimes their opinion is valuable and sometimes not so much," but it is interesting to see things from their perspective.

Townsquare Media market president David DuBose clarified that Tide 102.9 does not split coverage drastically with other schools, that the focus remains on Alabama in every situation. If something were to happen to Auburn that can relate to the Iron Bowl, naturally, it will be discussed. However, the station is not going to create time to talk about Auburn for the sake of it or to be fair, something state competitor WJOX is naturally required to do.

Tide respects the JOX brand out of the Birmingham area, but feels it has the edge in Tuscaloosa.

Fowler mentioned that Tide was built to fill a gap in JOX's in-depth coverage of Alabama football. When JOX moves to a syndicated ESPN show or has to talk about other SEC schools, Alabama fans in the Tuscaloosa area have Tide 102.9 to turn to keep the conversation on the Crimson Tide.

For example, Fowler says he often has The Paul Finebaum Show, which broadcasts live on JOX, on the television in his studio and keeps an eye out for opportunities when Finebaum has to cover another school or a lesser sport. "That's my time to drive," he said. "I know the listeners are flipping. Alabama fans are not going to hear him talking about South Carolina women's basketball, Kentucky men's basketball or Vanderbilt baseball."

"We think we're in a sweet spot," DuBose said. "We keep an eye on what they're doing, but we concentrate on how we do things here." That sweet spot is firmly ahead of JOX in the Tuscaloosa market ratings.

"We have a different formula here and I think our formula works for this market," DuBose added.

The formula includes a focus on pushing digital content.

DuBose said there isn't a sports station in the state posting the amount of digital content as Tide. The station looks for the local unique visitors across the spectrum of digital services they employ to broaden the reach of its content. Everything from breaking news for Alabama football to each show's featured interviews are uploaded to the station's website and media outlets like SoundCloud, Youtube and Twitter.

Tide also streams live with its own mobile app that has close to 20,000 downloads. The app is compatible with Amazon Alexa and has live presentations of every sporting event for the University of Alabama.

Martin Houston takes advantage of the digital age to boost his early morning show and to expand the market size of his audience.

"For me, being on the air, radio airwaves is just a part of what I do. I do my show with Facebook Live every day and then through social media. So I look at it as it's not a small market, in my opinion, because you have so much opportunity and so much reach because of the team we cover."

Houston mentioned he knows of fans in Baltimore and Russia who found his show through his digital outreach.

However, the digital strategy of Tide 102.9 will take a slight hit, as will the rest of the station, as up and coming producer Marquis Munson took an opportunity to jump to a larger market when he joined Nashville's ESPN 102.5 The Game on March 2. In just under two years at Tide, Munson became the program director at the station while serving as the executive producer of The Game with Ryan Fowler.

"Marquis is a superstar in this business," Fowler said. Fowler also complimented Munson on his work ethic and for his part in getting the station's ratings to an all-time high. "He'll be very successful up in Nashville," he added.

"He was one of the leaders, and in my opinion, of the paid staffers at 102.9, he was very, very important, if not the most important," Houston said.

Munson will still be with Tide on a part-time basis, working with the station's full-time producers and helping with scheduling, especially during the spring sports season where rain delays and cancellations can become a nuisance.

"I'm excited for a fresh new start to my life and I want to thank everyone personally from the bottom of my heart that has rocked with me since day one," Munson said in a personal statement on Twitter.

In a tearful on-air goodbye, Munson closed out his final moments with Tide 102.9 with Fowler's signature sign-off.

The next step for Tide 102.9 will be filling the void Munson leaves behind.