Last week, I gave you my favorite MLB team radio booths. This included the Indians, Dodgers, Cubs, and Cardinals.
This week, I want to look at what I find to be the two worst MLB team broadcasts. My opinion is based on broadcasts that I have heard myself. I know everyone has their own thoughts but these are mine. In addition to telling you why I feel their broadcasts are terrible, I'm going to give some important suggestions on how they can be fixed. 
Washington Nationals-Charlie Slowes (pbp)and Dave Jageler(pbp)
I'm not a big fan of two announcer teams to start with. I feel like if you are going to have a two-person booth, one should be the play by play announcer and the other an analyst who can give some insight as to what's going to happen and why. So that's strike one. Strike two is Charlie Slowes announcing. He's what we used to call a "puker." He's someone who is over annunciating every word. Strike Three is the massive amount of stats delivered during the Nationals radio broadcast. 
You can't listen for one batter without hearing a litany of stats and numbers. I'm listening on the radio; please describe the action because I can't see it. Just because baseball has a million stats now, doesn't mean you have to use all of them.
Alright, enough of my complaints; easy to do but harder to fix.
In a perfect world you settle on one play by play announcer and one analyst. Really hard to do when the Nats started as the only former players they had then were technically Montreal Expos. Now that the Nationals have just completed their 14th season in DC there are former Nats to pick from to add to the radio booth. 
My first choice would be Jayson Werth. An extremely popular player who just had his number retired this season. He still lives in the area and really knows the game. The downside is that he's very involved with his son's burgeoning baseball career. 
If Werth is not available I would definitely look at Mark DeRosa. DeRosa only spent one year of his major league career with the Nats, but he's a smart and entertaining analyst for MLB Network. He's very well thought of around the majors with his name even being mentioned for some managerial openings. 
Other Possible Analysts:  Adam LaRoche, Nick Johnson or Davey Johnson
Then the question is which of the two play by play guys do you keep? I would keep Jageler as I find him to be more conversational and less stats-crazy than Slowes. Either one would really be helped by better defined roles and a full-time analyst. Having two play by play announcers is like playing two quarterbacks. The old adage is "If you have two quarterbacks you have none. " I think that applies to this situation. You have to trust either Slowes or Jageler to call your games and give them an analyst so we are not overwhelmed by stats and data listening to your games. 
Chicago White Sox-Ed Farmer(pbp) and Darrin Jackson(color)
Having listened to them a couple of weeks ago, I am again surprised at how embarrassingly awful this broadcast is. Trouble in the White Sox radio booth began when John Rooney left the White Sox after the 2005 World Series Championship season to call St. Louis Cardinals games. (The Cards won in 2006 making Rooney the only radio announcer to call his team's World Series win for two different teams in consecutive seasons.)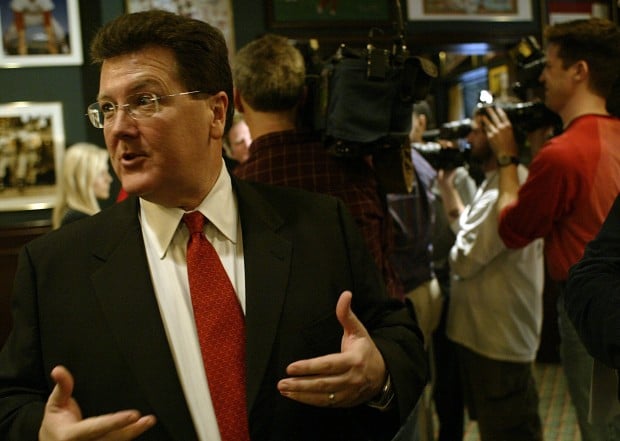 Ed Farmer was Rooney's analyst and the broadcast worked. Farmer moved over to play by play when Rooney went to St. Louis. He wasn't a play by play man then, and still isn't one now. He mumbles and stumbles his way through a game with a monotone voice. Additionally, Farmer apparently does little to no prep for his broadcast. 
For example, during a weekend series with the Cubs, he was talking about having seen Cubs reliever Steve Cishek when Cishek was in Minnesota and how he's practically unhittable. Sounds great, except that Cishek has never played for the Twins. Farmer had confused him with former Twins and current Phillies reliever Pat Neshek.  Knowing the information is 100% wrong, analyst Darrin Jackson had to correct Farmer on the air. 
To add to the fun there is no chemistry between the two, but they both try to be funny or bust each other. It is so dry and contrived and it nearly always falls flat. Jackson's not going unscathed here as he talked about astronaut and American Hero Jim Lovell as having "intestical fortitude" instead of "intestinal fortitude". It's an embarrassment to a storied franchise that has had some great announcers through the years. 
There's good news. This can be fixed and here's how. First, say goodbye to Farmer and Jackson. Thanks for your time. Next, hire AJ Pierzynski as the new radio analyst. He played for the White Sox for eight seasons including their 2005 World Championship team.  He returned to the White Sox as a "Team Ambassador" last December.  You hire Pierzynski then just move Andy Masur from Pre and Post game duties with the Sox to the play by play job. Masur has play by play experience with the Padres from 2007-2014 and is a native Chicagoan. 
It's also the perfect time for a major shakeup like this in the Sox radio booth. The team has been going through a rebuild and will bring a number of exciting prospects to the big leagues over the next two years. Additionally, this was the Sox first year on WGN and I know that Todd Manley, WGN's Station Manager and VP of Content and Programming, has to make this broadcast better.