I'm a big fan of regular contributors on radio shows. Mostly, because some of the most memorable segments on a show can come from guests who not only give out great information, but do it in a way that shows how great of a rapport they have with the hosts. Some hosts are better at it than others, but the best seem to have a knack of making the weekly contributor become a relatable character on the show and a segment the audience looks forward to every week.
At that point, you're not just pulling information out of someone, you're also letting them show off their personality and become a figure that the listener really enjoys. When you have that, you've really found something.
A particular show host who I think does a fantastic job of this is Carrington Harrison, co-host of The Drive at 610 Sports in Kansas City. I've listened to C Dot's show for about three years and I've enjoyed the rapport he and his co-hosts have developed with regular contributors such as Jeff Passan and Rex Hudler. As someone whose sports loyalties lie outside of Kansas City, it's pretty telling of how good it is, when I consider it a must listen.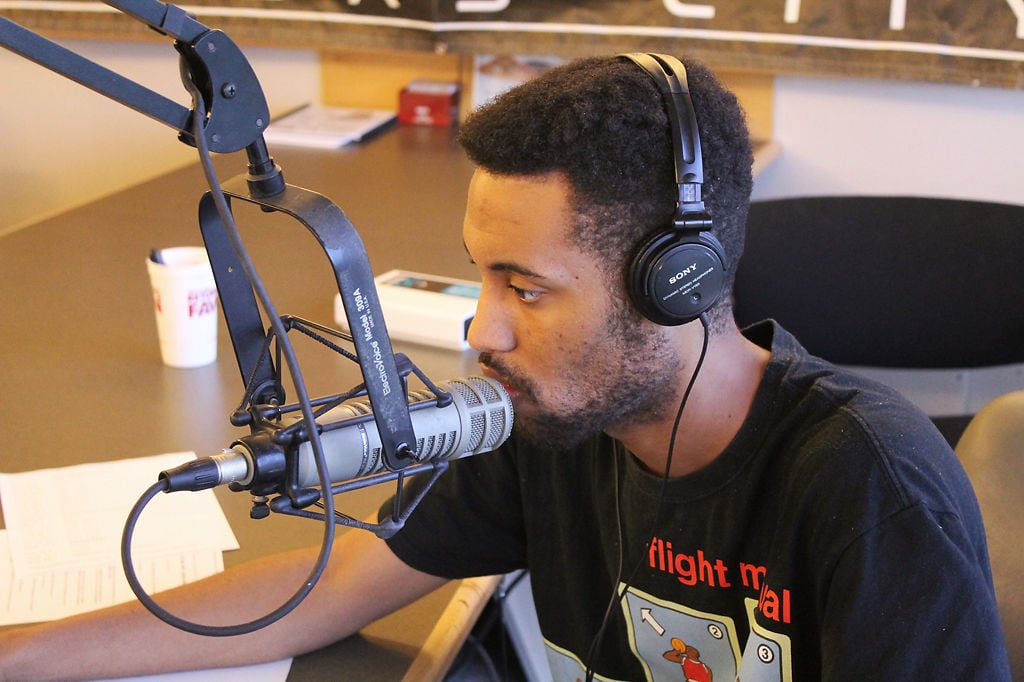 As far as favoring regular contributors, C Dot likes them too. In fact, during the NFL season, his show will have at least one on during every show.
"I think it creates staples," said Harrison. "It gives you piece of mind knowing that 2:30 and 4:15 are done every day. You can create those as pillars. I think it creates consistency with the listener that they appreciate. The longer you do them, the better rapport you'll have and the better the actual interviews will be."
But like anything else in sports radio, there's a science to doing it the right way. Should I focus on consistency with my regular contributors, in terms of having the guest on at the same time each week?
"It's kind of two-fold," said Harrison. "You want to have your daily staples that people are used to and expect, but to me the mark of any show, when big news happens, you have to be able to pull the big-time guests to get people excited about it."
I agree with C Dot about that. I don't think there's anything wrong with bumping back your regular contributor for a name that carries a lot of weight. For instance, if I'm doing a show in New York City today, I'm probably bumping back my weekly Knicks guest to get a big-name on to talk about the OBJ trade. That seems logical.
For the upcoming baseball season, there will be three regular contributors on The Drive that cover the Royals. The first, is the aforementioned Hudler who serves the TV color analyst. The other two are radio play-by-play voice Denny Matthews and the Royals Insider the station has on staff.
But if you've paid attention to the expected win totals for each MLB team, the Royals aren't exactly expected to contend for a pennant. In fact, last year, the team won just 58 games and finished last in the AL Central. So what happens if a similar season unfolds this year? How relevant do the regular contributors become during the summer months if the team is losing and the interest is declining?
"As a host, you always have to think on the side of what's best for the show," said Harrison. "I love Rex Hudler. But in June when the Royals are 50 games out of first, the 11-minute interview you can have with him in May, now probably needs to be 4 minutes. I think that's part of it."
What about the people that are actually the guests? Josh Newberg is a weekly guest on the Bill King Show in Nashville. The publisher of Noles247 at 247Sports, he brings all the latest FSU football every week with King. To Newberg, there's a gain to being a writer that often appears on other radio shows.
"It opens me up to a new audience," said Newberg. Getting on other people's shows allows you to tap into a new market, gain new listeners or customers."
I really think regular contributors can benefit off being entertaining guests on a show. Instead of just being the guy that writes about the local team, if the rapport with a host is strong enough, listeners now get to find out his likes and dislikes, as well as what kind of person they are. Like Newberg stated, that can often lead to new customers.
It's pretty common in today's age to see a tweet about an upcoming guest, followed a few minutes later by actual quotes the guest is saying on the show. As long as you're accurately quoting what the guest is saying and not misconstruing it in any way, you shouldn't run into any problems. But what does the regular contributor really feel about seeing his or her comments on Twitter in real time?
"I don't mind it," said Newberg. "I don't know if it is beneficial, but if it's another voice that people respect, endorsing my opinion, that's always a good thing."
We've all dealt with guests or phone callers that have terrible reception. There's certainly ways to curb that problem, but sometimes it just happens and there's little you can do about it. Harrison says, like everything else, when encountering this problem you have to think about what's best for the show.
"Sometimes, there's just nothing you can do," said Harrison. "Let's say that they're not on a good phone, I will put you on hold, then tell the producer to make sure his phone is good. If we start talking to you and it's not good, the moment you're done answering a question we're going to put you on hold and call you back. And then if we call you back and it happens again, I'm sorry, but we have to chalk it up as it didn't work today and move on with the show. I would never be disrespectful about it, but if you're a regular contributor, just try to be accommodating. That doesn't mean you have to come to the studio every day, but just be willing to accommodate."
To me, a regular contributor shouldn't be someone you're doing a favor for or someone you're just throwing on for 12 minutes a week to kill air time. There has to be a reason and a purpose behind their presence. C Dot said it best when he said: "It's not just about filling the time that you're on. If we have you on and you can't create more than just the one segment we have you on, I don't think you're a good guest worth having."
Bingo!
If your guest doesn't say something interesting enough to drive social media responses, the text line or even another mention of it later in the show, what's the point?
Again, bringing out the personality of your regular contributor can be so critical to the segment's success. Though it's always something to strive for as a host, it's not always something that can be done. C Dot learned that last year with a big-name guest, but was still able to get a lot out of the segment.
"We had Rich Gannon on last year during football season," continued Harrison. "We don't really have a good rapport with him and he's not one of our more entertaining guests, but he brings really good information. With Patrick Mahomes being here, we can ask him things that we can't ask anyone else. He's much more of the standard 8-minute interview where we try to maximize it as much as possible.
"With Rex Hudler, we've been able to develop a game around him. We used to do a segment called Therapy Thursday where he would give people advice. We always have him and his wife on for Valentine's Day. They come into studio and they talk about their relationship. It depends on who the person is, the regular stuff and all that kind of stuff. You really learn about their personality and what they like, as well as their strengths and weaknesses."
BONUS: I didn't feel this particular quote from C Dot fit into the story, but it's so good that I couldn't stand to leave it out.
TM: Are you more apt to get those big-name guests during drive-time or earlier in the show?
CH: "I'm much more inclined to do it earlier in the show and replay it. If we have a big guest, there's no reason why in our biggest hour you shouldn't hear it. That's kind of my strategy.
Let's say I have Adam Schefter on the show to talk about the Tyrann Mathieu signing for the Chiefs. I would probably try to have Schefter on the show earlier as opposed to 5:00. Then, there's no reason the 5:00 audience shouldn't hear it too. The numbers suggest that the people who hear it at 4:00 aren't going to hear it again at 5.
We try so hard to think of original content, but rarely do we think about what might sound repetitive to us, a lot of people are hearing for the first time. So, again, let's say Schefter comes. I'd have him at 2:30, play the best three cuts from that interview at 4:00 and then out of the 11 minutes he's on, take the best eight minutes and play it at 5:00."