Forgive what may seem like the lateness of this article. I was on vacation last week when most hosts and reporters were discussing the details of Robert Kraft's arrest.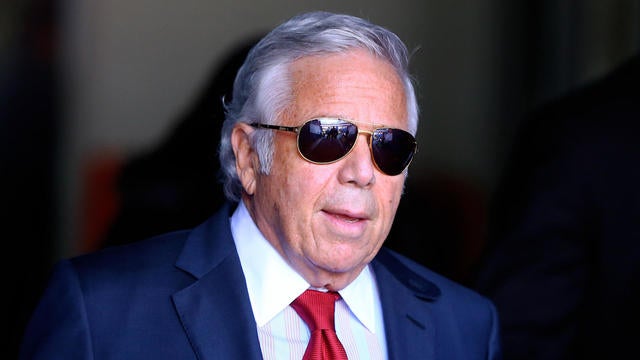 Being on vacation doesn't mean I didn't consume some sports media. I read about the arrest and fallout on ESPN.com and The New York Post. I watched reactions from Bomani Jones and Pablo Torre on High Noon and from Adam Schein on Time to Schein. I listened to what Sarah Spain, Doug Gottlieb, and Collin Cowherd all had to say about it on their respective radio shows. For the most part, I thought every story I read, watched, or heard gave an intelligent opinion that took the larger implications into account.
It was an instance where the sports media did a good job of reacting to the big picture and not just the sports-related details. Yes, Robert Kraft is the owner of the NFL's most successful franchise since the turn of the century, but in this case he's just a dude that gave his business to human traffickers. He deserves to be called out and judged harshly for that.
The real world comes crashing into the sports world a lot. Even though we all got into this line of work to talk about what happens on the field, sometimes we are forced to delve into the details of the lives these guys live away from the stadium.
Does that mean every new Colin Kaepernick story warrants a ten-minute segment? No, but when video of Kareem Hunt kicking a woman surfaces and the Kansas City Chiefs decide to release their superstar running back because of it, you need to be able to do more than just talk about how the Chiefs' offense will have to adapt.
The morning after that video hit TMZ I heard a station do something that is gross and completely indefensible. The host ranked high profile instances of domestic violence involving NFL players. If this was done as insanely dark satire shining a light on the way fans react to serious issues like it is just another number on the stat line that bit would have still been in bad taste, but I might have at least admired the balls the host showed by taking the risk.
That's not what he was doing. He was asking listeners to call in and discuss how Hunt's assault of a woman compared to Ray Rice's assault of a woman.
I don't have to tell you how misguided and gross that is, right?
I saw some of the same kind of discussion of Robert Kraft popping up online last week. Why is a guy worth that much money going to a strip mall looking for a $59 happy ending?
Kraft is in his 70s and dates women in their 20s and 30s. He is best buddies with Donald Trump. He stomps his feet and vows revenge when Roger Goodell doesn't give him what he wants. He gives his players kisses, some more passionate than others. Robert Kraft is a ridiculous human being and a powerful guy. That is a combination ripe for mockery.
I have no problem with that being part of your discussion, but this isn't just a man giving a woman money to get his rocks off. This is a story that involves human trafficking and the mega-rich utilizing sex slaves. You're doing your audience a disservice if all you have to offer on this story is "Robert Kraft got caught with a hooker. LOL!".
Sports radio has moved beyond the days of Sportzilla and the Jabber Jocks. We all understand the importance of being authentic with our audience and we fold real world consequences and stories into our daily rundown all the time. You don't have to be an activist for every cause or offer a lesson on every way the privileged can abuse their power, but you can't be scared to call out bad actors just because of their multiple championship rings or low career ERA.
Our audience may not be comprised exclusively of Rhodes Scholars, but for the most part they are smart as you are. Asking them to call in and rank NFL players' instances of domestic violence is playing to the lowest common denominator…maybe lower.
Racial injustice, assault of any kind, and human trafficking are all serious issues. It sucks that we have to interrupt the fun of talking about sports to deal with them but history shows that sometimes we do.
There's no need to go hunting for these stories or keep harping on the details apropos of nothing years after they occur, but when a story about a player being arrested or released by his team for doing something horrible leads SportsCenter or happens inside your own market, there is no win in hiding your head in the sand or approaching the story without any thought deeper than "what are the implications for fantasy football players?".